IP-Based Educational Communication Solutions

Bogen Quantum Multicom IP
Effective Communications Facility-Wide and District-Wide




Leverage your network and lower your system costs




Scalable, cost-effective and feature rich
Programming and changes are securely accessed and conveniently configured over the facility's network, or the internet. Authorized personnel may access Quantum using a web browser on any computer at the school or off-site.
For new constructions and schools or districts that are expanding in size, Quantum uses the LAN/WAN connections for programming and sending of audio messages and pages so there is no need for dedicated intercom cables between buildings or across long distances. Zone paging and All-Call Emergency Paging assures that messages sent from an Administrator location are distributed exactly and only to the desired locations.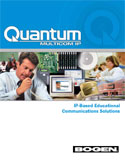 Bogen's Multicom Quantum IP is a comprehensive communications network that connects administrative areas and staff locations in a single building, in multiple building sites throughout a school campus, or an entire school district. It is filled with a variety of quality features and functions you can rely on every day for routine communications as well as depend on should an emergency situation occur.